Blog Homepage/ How to Enjoy Connected Webspaces to its Fullest Extend for your School or District
How to Enjoy Connected Webspaces to the Fullest Extent for your School or District
How to Enjoy Connected Webspaces to the Fullest Extent for your School or District
Connected Webspaces is a new feature that has recently been added to Symbaloo. Connected Webspaces are targeted Webspaces that can be created by Schools or Districts to bring blended learning to your students. In this blog post, learn how to use Connected Webspaces to their fullest extent for schools and districts.
Organize your School or District now with connected Webspaces, and get a FREE 30-day trial.
Symbaloo is your best friend when it comes to saving, sharing, and organizing resources. Create a Symbaloo Webspace now, and start organizing your school or district for blended learning.
Start your FREE trial now!
Create your Webspace
What are Connected Webspaces?
Connected Webspaces are Webspaces that hang below an overarching Webspace. While you can use the overarching Webspace for all common resources that all students, teachers, or parents use at your school. The Connected Webspaces are underlying Webspaces teachers can use to tailor resources to their classrooms and students.
How can I create a Connected Webspace?
You can create a Connected Webspace by accessing the tab 'Manage Webspaces' in the Webspace Dashboard. You can create new School Webspaces when you are on a District Webspace. Or, you can create new Classroom Webspaces when you are on a School Webspace.
How do I switch between Connected Webspaces?
Once you have created a Connected Webspace, a new icon is presented to you in the left sidebar beneath all other Webspaces you have added to your Symbaloo account. The number in the icon displays the number of Webspaces that are connected to this particular account. Here you can see all Webspaces connected to your Webspace, and browse them at any time.

Here on the left side, you see the icon that is displayed when other Webspaces are connected to yours.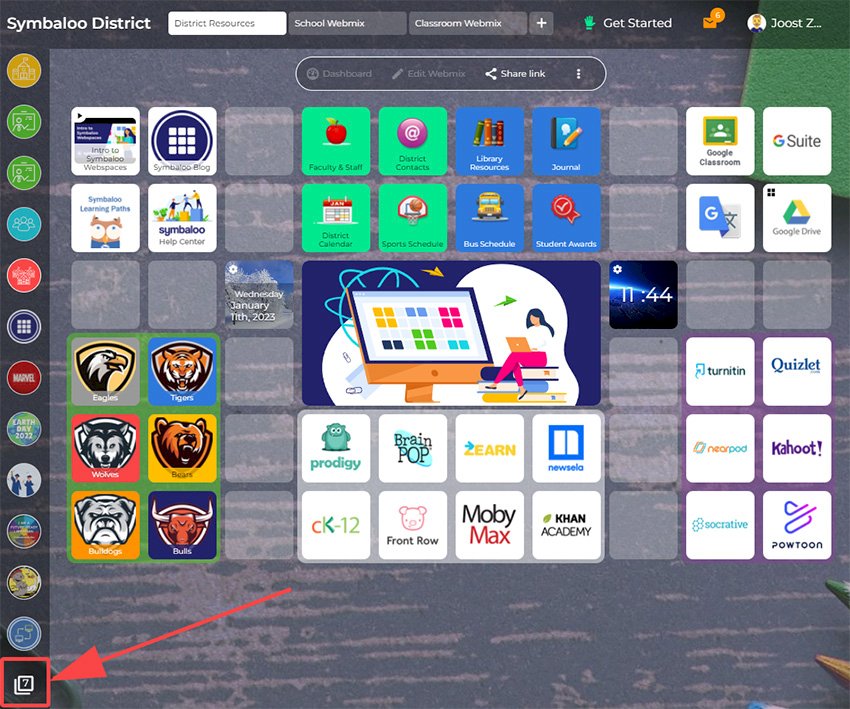 How to get the most out of Connected Webspaces for Districts.
To simplify operations, schools and districts are often interested in streamlining their information channels. Creating online hubs for all parties involved can help to solve many issues that schools and districts encounter. While these overarching matters are better to manage centrally, other issues can be better explained on a more local level. Here, we explain how you can make the most use of Connected Webspaces for your District.
Your District Webspace
In your District Webspace, the most important information for teachers, parents, and students can be brought together under one universal link. By creating groups of tiles targeted to a particular stakeholder group, all parties involved in your district are certain to be well-informed.
A Webspace for Every School
Within your Webspace Dashboard, you can create a new School Webspace for each school in your district. Each school can use their Webspace to gather their own resources, organize clubs & teams, or share School news. Learn more on how you can use Symbaloo in your school here.
A Webspace for Every Library
Create virtual libraries in Connected Webspaces, so every student and teacher can easily access books, articles, journals, multimedia, and other resources. Interlink the virtual library with your district, school dashboard, or within the 1:1 classrooms of your teachers. By digitalizing their resources, libraries can combine their powers to make their physical resources available in the whole school district.
Where to Go from Here
Once your District has created all School Webspaces, every school administrator or IT-coördinator has the opportunity to invite all the teachers in their school to create their own Symbaloo Classroom Webspace. Read more on this topic below.
How to get the most out of Connected Webspaces for Schools.
Schools are facing other challenges in their Webspaces than districts. Schools are keener to bring blended learning to their classrooms, and setting up the right tools is key to a successful transition. Here you read how schools get the most out of connected Webspaces.
A Webspace for Every grade or Teacher
Every school has an organization that is tailored to its capacities, size, and preferences. Therefore, schools can hand a Webspace for any grade, class, or teacher. So teachers can customize their Webspace to their needs.
Every teacher can choose their Symbaloo-URL, which makes it easy for students to access essential resources. Teachers can share their favorite resources, use Symbaloo as a start page, or choose to create their online classroom.
Advantages of a Connected Webspace for all Grades or Teachers
The main advantage is that teachers can personalize the learning needs of their students to their class rather than having a more generic approach. Teachers can prepare lesson plans for the day in a Webmix while publishing them on their Webspace. Learn how to use Symbaloo in your classroom in 6 different ways.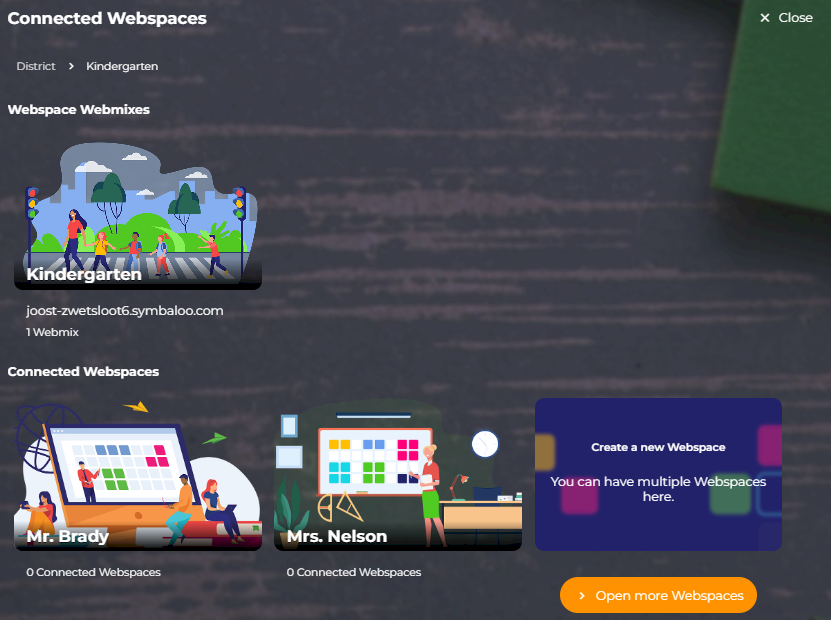 Organize your School or District now with connected Webspaces, and get a FREE 30-day trial.
Sign up for a Symbaloo School or District Webspace and discover how Symbaloo works for you!
Create your Free Webspace